Skip to content

Icefields Parkway
Hop in the car and be ready to have your mind blown! The Icefields Parkway is world renowned for its myriad of glacial mountain features. Be ready to take some photos during this spectacular experience.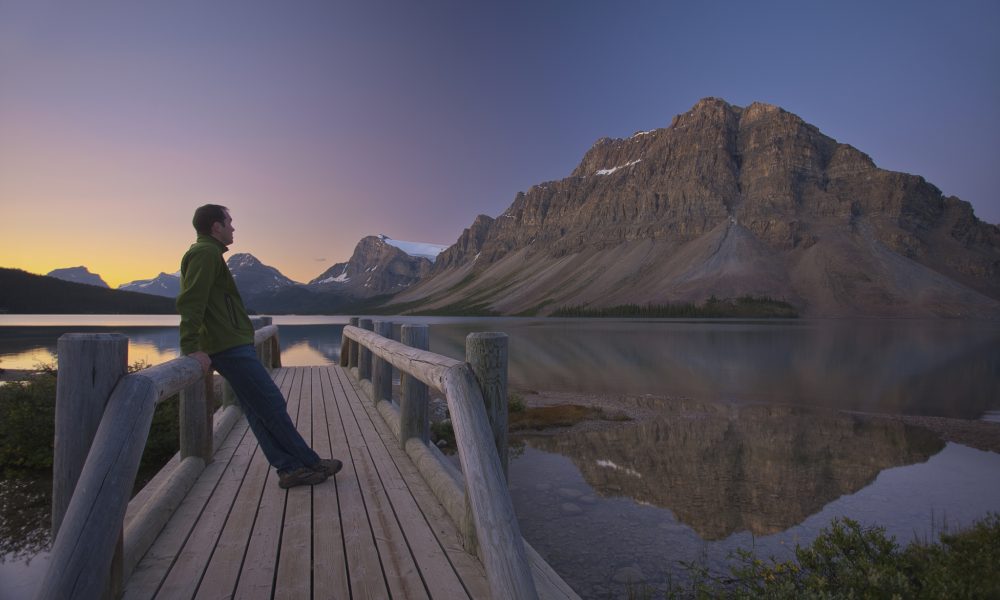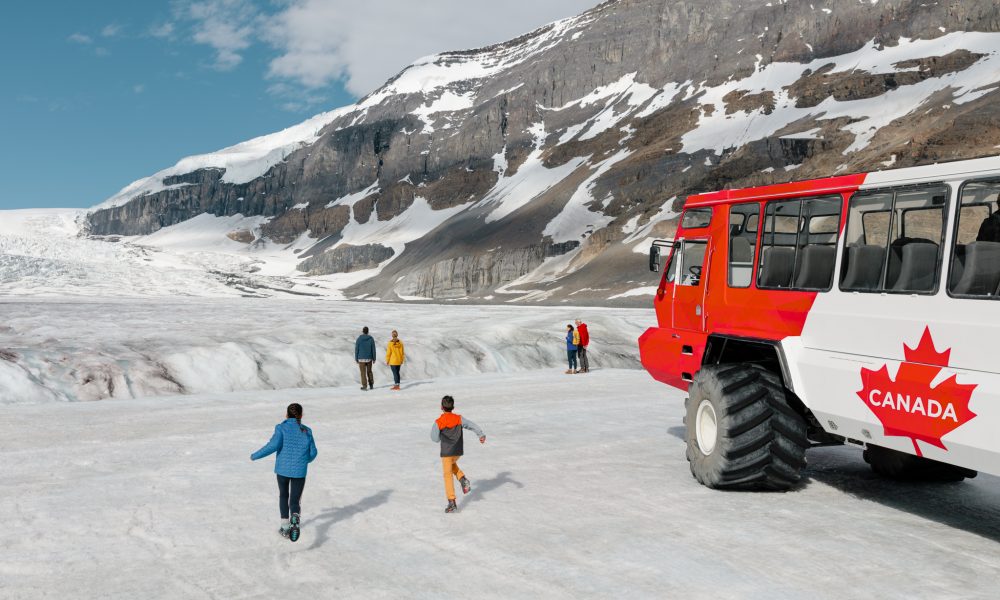 As one of the most iconic stretches of highway in Canada, the Icefields Parkway is a fascinating must-drive for any time of the year. You'll view over 100 ancient glaciers, cascading waterfalls, dramatic rock spires, and stunning lakes amid larch forests. It will take your breath away!
Unique Experiences:
Opt for a self-drive! Stay at the Mountaineer Lodge in Lake Louise and then at the Mount Robson Inn in Jasper. Make one call to 855.552.7737 to book both hotels and take 15% off your consecutive stays. You can't go wrong with comfortable beds and breakfast included!
Ice Walks Guided Interpretive Tour
Guru guides lead daily hiking adventures on the Athabasca Glacier.
Half-Day Tour Details:
Dates: May 22 – October 10, 2021
Hike Profile: 3 hours, 5 km (3 miles) round trip, 200 m (650 feet)
Adult Price: Adults: $115.00 CDN, plus 5% GST.
Children 7-16 Years: $60.00, plus 5% GST.
Days: Departs twice a day at 10 AM and 1:45 PM.
Full-Day Tour Details:
Dates: July 1 – September 19, 2021 (Dates may vary due to ice conditions and weather.)
Departure Time: 9:30 AM
Duration: Approximately 6 hours.
Hike Profile: Hike is roughly 8.5 km (5 miles) roundtrip, gaining 330 m (1000 feet) of elevation.
Adult Price: $185.00 CDN, plus 5% GST.
Child Price: $90.00, plus 5% GST. Must be 7-16 years of age.
Please check dates when booking. For 2021, the Deluxe Glacier Adventure is offered 3- 4 days a week.
Indigenous Led Tours
Dates: August 29, 30 & September 10.
Time: Departs at 9:30 AM and 1:45 PM on the dates above.
Duration: Approximately 3 hours.
Hike Profile: Hike is roughly 5 km (3 mi) round trip, gaining 200 m (650 ft) of elevation.
Adult Price: $150.00 CDN, plus 5% GST.
Child Price: $70.00 CDN, plus 5% GST. Must be 7-16 years of age.
Mountain Madness offers the full package to provide an amazing multi-day cycling experience through the Rockies. For riders of all calibers, their expertise and support is worth it! Check out their bike tour video to understand the full experience!
Download the GyPSy Guide app at a cost of $4.99 for an instant tour guide right in your own car with you. Data is only required to download the app, and the tour will tell you all the best places to stop, where you might spot wildlife, as well as interesting historical stories along the way.
Roam the Rockies Tour package
Points of interest:
Bow Lake - 39 km from Lake Louise
Bow Lake is the headwaters of the Bow River that runs south through the city Calgary and onto the Oldman River ultimately to Hudson Bay. The lake lines the Icefields Parkway and makes a perfect place to stop and view the Crowfoot Glacier (shaped like a crow's foot), Wapta Icefield, Bow Glacier, Crowfoot Mountain and Mount Thompson.
Peyto Lake and Bow Summit - 44 km from Lake Louise
The most popular glacier-fed lake, Peyto Lake is the also the most visited and photographed lake in the Canadian Rockies. During the summer, significant amounts of glacial rock flour flow into the lake, and these suspended rock particles give the lake a bright, turquoise colour. The lake is best seen from Bow Summit which is 2,088 metres (6,800 feet) above sea level. Bow Summit is the highest point on the drive from Banff to Jasper and is the highest elevation crossed by a public road in Canada.
Saskatchewan River Crossing - 79 km from Lake Louise
This is a significant location where three rivers meet; the mighty North Saskatchewan, the Howse and the Mistaya. The North Saskatchewan River rises in the Canadian Rockies and empties into Lake Winnipeg over 1,600 kilometres (1,025 miles) east across the country. "The Crossing" is a starting point for tours on the Columbia Icefield. It is also the only place for basic services including public bathrooms, gas station and a restaurant.
Weeping Wall - 106 km from Lake Louise
A mountain that cries? Located at Cirrus Mountain, the Weeping Wall resembles a mountain with a river of tears. More than 100 meters high (330 feet) water cascades in a series of waterfalls. The main fall is called Teardrop.
Big Hill and Big Bend - 115 km from Lake Louise
Aptly named, you will know when you arrive at the Big Hill and Big Bend. The descending road clings to the wall of a mountain and offers expansive views of the valley and river below. The Big Bend is the famous hairpin turn that wraps in a circle below towering peaks. If you choose to stop, please ensure that you are completely off the road.
Parker Ridge - 120 km from Lake Louise
Parker Ridge in northern Banff National Park is a must do for those who want a bit of elevation to take in a multitude of mountain ranges and Saskatchewan Glacier (the longest). The hike is approximately two hours rising 250 metres (820 feet). Parks Canada has been closing the trail from late spring to early summer to preserve the landscape.
Columbia Ice Field - 128 km from Lake Louise
Just as the name implies these glaciers or "fields of ice" straddle Banff National Park and Jasper National Park and are the largest south of the Arctic Circle. They are 325km2 in area and 100 to 365 metres (328 to 1,197 ft) in depth and receives up to seven metres (275 in) of snowfall per year. During the summer months visitors to the area can travel onto the glacier in the comfort of large "snowcoaches" or you can simply marvel at them from the roadside parking lot. The Columbia Icefield is also a major destination for ski mountaineering in the winter months. Visit the Columbia Icefield Centre and its natural history museum. A large three-dimensional model of the Columbia Icefield clearly shows its extent (100 square miles/259 square kilometers) and its three meltwater drainages (Arctic, Atlantic, Pacific). Other displays examine wildlife of the alpine zone and explain how glaciers form, grow, and retreat.
Glacier Sky Walk - 135 km from Lake Louise
Glacier Sky Walk, opened in May 2014, is a unique experience that puts you on a glass-floored observation platform 280 metres (918 feet) over the Sunwapta Valley. The entire experience, offered by Brewster, starts with a walk along the Discovery Trail and costs $25 per adult. If you are not into heights, you can still view the Sunwapta Valley from a look out point nearby.
Sunwapta Falls - 177 km from Lake Louise
This class 6 waterfall is located south of the Jasper town site and has a drop of approximately 18 metres (60 feet). The falls are particularly impressive in the late spring and early summer when snow pack run off is high. The Sunwapta Falls are fed by the Athabasca Glacier.
Athabasca Falls - 200 km from Lake Louise
Among the most breath-taking and powerful falls in the Canadian Rockies, the Athabasca Falls are located 30 kilometres south of Jasper town site. The falls are impressive for the volume and force of water, less for its height. The falls can be safely viewed and photographed from various viewing platforms and walking trails.
Jasper
As a mountain town, Jasper is relaxed and unpretentious with good food and drink, as well as endless outdoor wilderness at your doorstep. It's an outdoor sports lover's playground, with hiking and golfing in the summer and skiing and ice canyon walks in the winter. Jasper is the world's largest dark sky preserve making for stunning star gazing. Year round festivals and events celebrate the diversity of Jasper National Park, its heritage and mountain culture.
GET INFO ABOUT RENOVATIONS PROGRESS >>