Skip to content

Hiking
Put one foot in front of the other and soon enough, boom you are on a mountaintop!

Lake Louise is mecca for hikers with so many trails and interesting features like canyons, waterfalls, glaciers, and lakes.
Lakes & Waterfalls Hikes
HIKES TO LAKES

Rockbound Lake - Located just off the Bow Valley Parkway at Castle Junction, Rockbound Lake is a classic example of a high-alpine lake. Surrounded by stunning cliffs, the scenery is worth the moderate 16.8 km (return) hike.
Taylor Lake - A great place to check out the famous fall larch trees, Taylor Lake is also home to a few cozy backcountry campsites. 12.6 km return.
- Well known among local hikers as a "must-do" hike during wildflower season, Helen Lake is an amazing choice for a day hike. Travel 12 km (return) and enjoy stunning views of endless alpine meadows.
Cephren Lake - Departing from Waterfowl Lakes Campground on the Icefields Parkway, the quiet 7 km return hike to Cephren Lake is the perfect way to start your day. As a bonus, you can also include Cirque Lake with a short detour on your way back.
HIKES TO WATERFALLS
Bow Glacier Falls - Starting at stunning Bow Lake on the Icefields Parkway, travel 4.6 km (one-way) to the roaring falls and witness the stunning origins of the Bow River.
Silverton Falls - On your way to Rockbound Lake, take a short detour up to Silverton Falls - a classic Banff hidden gem.
Johnston Canyon - If you're after waterfalls, this is the place to go. The iconic catwalks of Johnston Canyon offer amazing access to several thundering waterfalls. A 1.1 km forest walk will bring you to the lower falls, but it is always worth continuing an additional 1.6 km to the upper falls.
Looking for more hiking inspiration? Check out 9 Bucket List Hikes in Banff National Park.
Tea House Hikes
With breathtaking views and delicious food and refreshments, hiking to a cozy back-country tea house is a must-do experience for your visit to Lake Louise.

Starting at the shoreline of Lake Louise, by the Fairmont Chateau Lake Louise, the trail to the Lake Agnes Tea House is a moderate 3.4 km climb up switchbacks. Along the way, you'll pass numerous viewpoints and the stunning Mirror Lake. Once you arrive at Lake Agnes, you'll be well positioned to enjoy a snack and then head off on another adventure, including side-trips to the Big Beehive and Little Beehive.
For those looking to continue their tour of tea houses in the Lake Louise area, continue on a 4km moderate hike up to the Plain of Six Glaciers Tea House where you'll be rewarded with dramatic views of the glacial valley and the vastness of the area, and have more opportunity to spot wildlife. Relax and enjoy a well-deserved hot cup of tea with a delicious selection of homemade treats, before your return journey either via Lake Louise or via Lake Agnes.
Connect with the Experts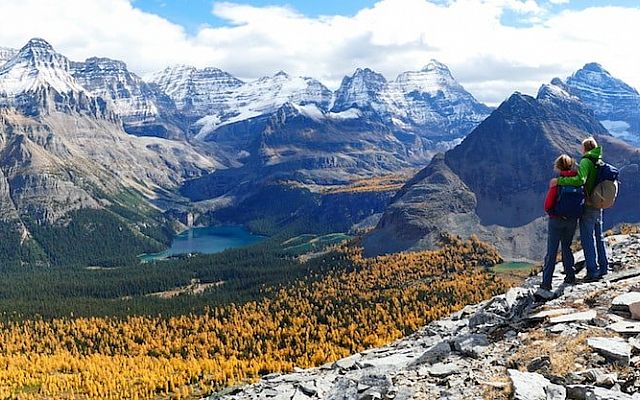 Great Divide Nature Intepretation
Get the stories behind the scenery with Great Divide Nature Interpretation. Discover the mountain landscape of Banff National Park through a guided hike to see amazing scenery and local wildlife viewing opportunities. Explore the quiet winter wonderful by snowshoe. Having a guide by your side is an unparalleled experience.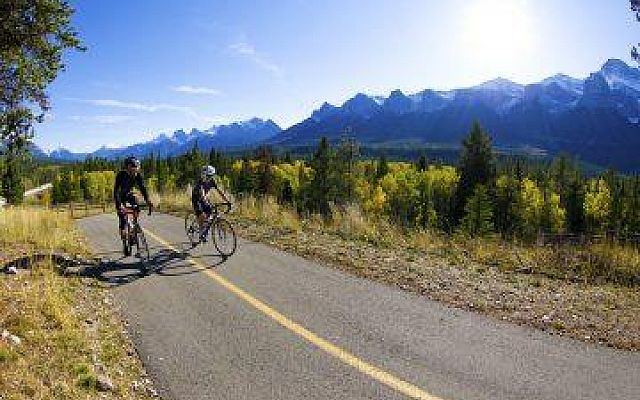 Radonnee Tours Self-Guided Biking-Hiking
Randonnee Tours offers self-guided 6-day biking and hiking trips in the Canadian Rockies with accommodation at the Mountaineer Lodge. Experience the rugged wilderness of the Canadian Rocky Mountain parks by day and enjoy the warm, luxurious comfort of mountain lodges by night. Hearts will pound as you crest tough mountain passes offering unparalleled views of snow-capped peaks. You'll begin your exploration in Banff National Park, where towering mountains rise from the shores of turquoise-blue lakes, glaciers gleam, lakes shimmer, vistas overwhelm and forests enchant.