Skip to content

Biking
Whether it's a cruise-y ride or a heart-pounding technical ride, Lake Louise trails will keep you coming back for more.
Visit the Icefields Parkway Website for all the info you need to prepare for your trip.
Bow River Loop 7.1 km loop (easy)
No elevation gain
Trailhead: Lake Louise Campground or opposite the historic Lake Louise train station (Station Restaurant) beside Bow River bridge

Ideal for families, this gentle riverside trail travels both sides of the Bow River and can be shortened by cutting across any of the bridges. Interpretive signs along the way highlight the Bow River ecosystem. This trail is popular with pedestrians who may not hear your approach above the river's sound; ride respectfully and make your approach known. This route connects with the Tramline Trail.

Tramline 4.5 km one way (easy)
Elevation gain 195 m
Trailhead: Opposite Lake Louise train station (Station Restaurant) beside Bow River bridge

This wide trail is the former route of a tramway (1912 to 1930). It offers a quiet ride up and down from the valley floor to upper Lake Louise. The trail comes out at the upper Lake Louise parking lots, an alternative starting point for a downhill ride on this trail.

Pipestone 7.2 km one way (moderate)
Elevation gain 165 m
Trailhead: Slate Road, turn off Trans-Canada Highway, 1.5 km west of Lake Louise

This well-defined gravel and dirt trail heads up along the Pipestone River into the Pipestone Valley north of Lake Louise. Watch for horse users and bears. Not far from the trailhead, an 800 m side trail offers a short, sometimes muddy, trip to Mud Lake. Cyclists are not permitted beyond the bike turnaround point at km 7.2
Ross Lake 7.3 km one way (challenging)
Trailhead: Behind the Chateau Lake Louise staff residences
This singletrack trail begins near Lake Louise and takes you through sub-alpine forest to Ross Lake, a small lake nestled against an impressive rock wall in Yoho National Park. It is a mainly intermediate trail with a few short advanced sections. It can be ridden out and back or as a loop when connected with the Great Divide.

Moraine Lake Highline 9.3 km one way (challenging)
Trailhead: Small parking area on right, 2.5 km up Moraine Lake Road
Considered the best trail in the Lake Louise area, the Moraine Lake Highline will test the skills of advanced riders. The trail begins with a demanding climb, which rewards riders with incredible views of the Valley of the Ten Peaks and Moraine Lake.

Note: The upper section of the trail is closed to all users in mid to late summer when buffalo berries (an important food source for bears) are ripe. Check in with the Lake Louise Information Centre for closure dates and important information.
Connect with the Experts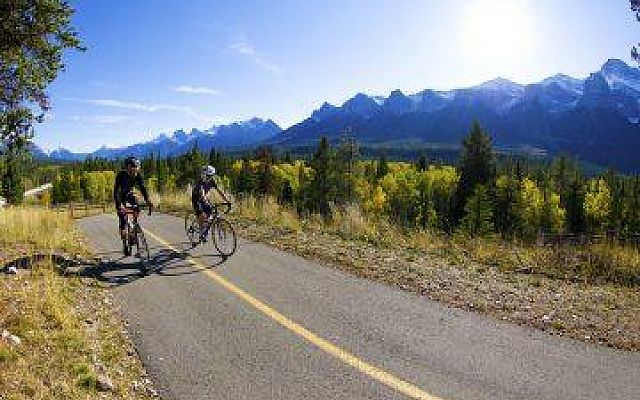 Radonnee Tours Self-Guided Biking-Hiking
Randonnee Tours offers self-guided 6-day biking and hiking trips in the Canadian Rockies with accommodation at the Mountaineer Lodge. Experience the rugged wilderness of the Canadian Rocky Mountain parks by day and enjoy the warm, luxurious comfort of mountain lodges by night. Hearts will pound as you crest tough mountain passes offering unparalleled views of snow-capped peaks. You'll begin your exploration in Banff National Park, where towering mountains rise from the shores of turquoise-blue lakes, glaciers gleam, lakes shimmer, vistas overwhelm and forests enchant.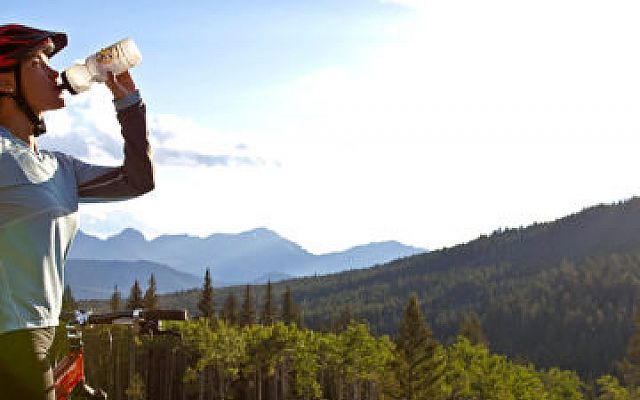 Great Explorations - Biking Tours
It's been described as a rite of passage for touring cyclists "a highway strung from the stars"... Cycling from Banff to Jasper following the spectacular Icefields Parkway will be a trip you always remember. Join the Canadian Rockies tour and stay at the Mountaineer Lodge.
GET INFO ABOUT RENOVATIONS PROGRESS >>