Skip to content

Horseback Riding
The beauty of the Rocky Mountains were made to be explored in the saddle. Come along for the trail ride of a lifetime!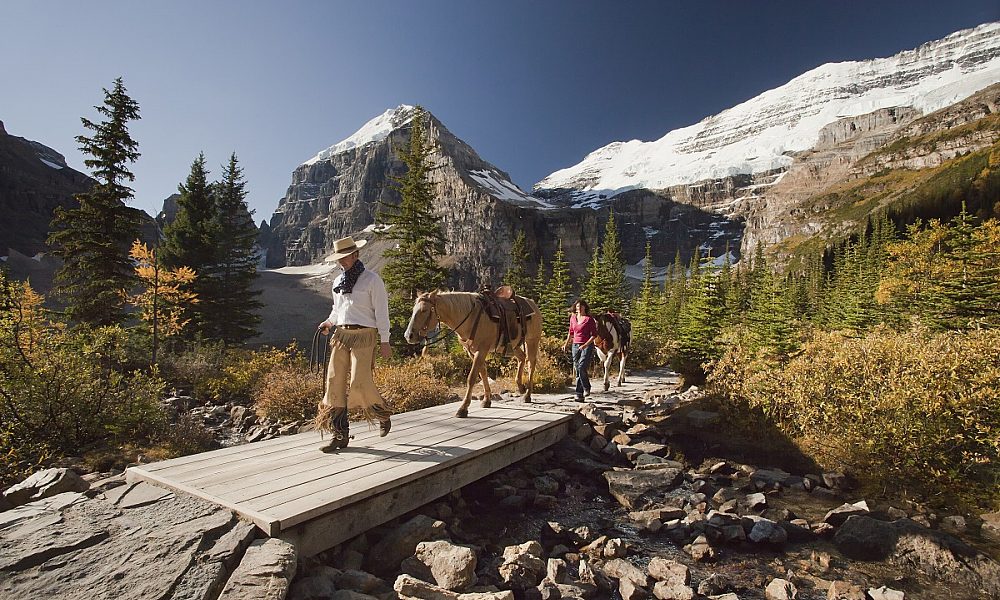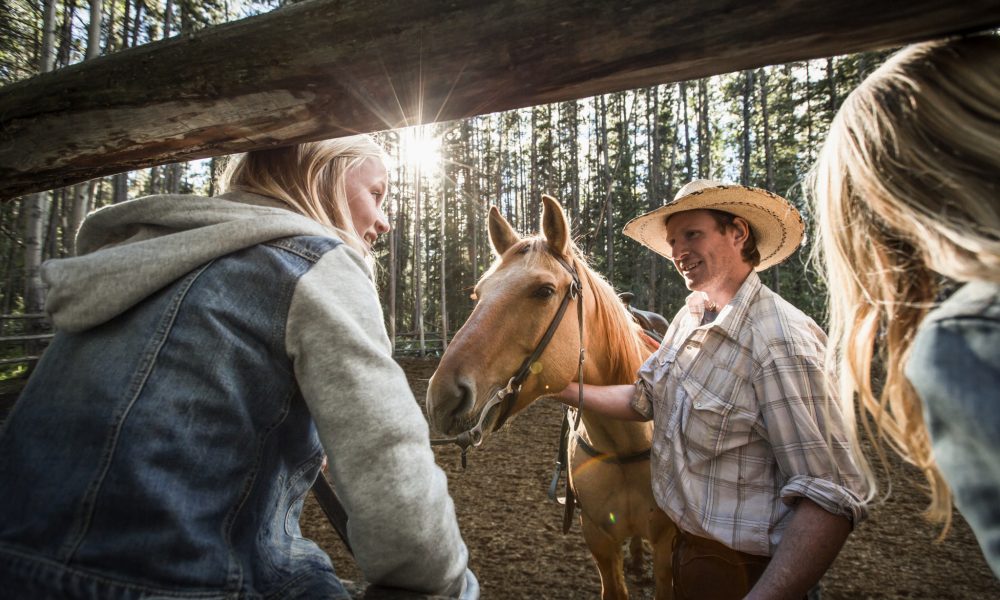 Brewster Adventures offers five summer trail rides to spectacular Lake Louise area destinations:

Destination Trail Head
$120.00 per person - approximately 1.5 to 2 hour ride

Our Destination ride travels along the northwest edge of the Lake through a century old sub-alpine forest of spruce and fir trees. As we travel to the end of the Lake, Mount Fairview can be seen to the east, with Mount Victoria to the south. The emerald color of the Lake can be seen through the trees as your ride progresses. At the end of the Lake, our final destination, you can look back to view the Chateau Lake Louise and have the opportunity for breathtaking photos.
Lake Agnes Teahouse Ride

Departure Times: 9:00 am and 1:00 pm
$180 per person - approximately 3-hour ride
Known as one of the most popular trails in the Canadian Rockies, our Lake Agnes teahouse ride will climb to an elevation of 7,000 feet to a tarn nestled in a valley high above Lake Louise. This historic mountain teahouse, named after the wife of Canada's first Prime Minister, was originally built in 1901, and rebuilt in 1981.

The trail follows along the tree line of Lake Louise through a large growth of sub-alpine forest rich with spruce and fir trees. You will see Lake Louise below and the lower level of Fairview Mountain. As the trail climbs steadily to your teahouse destination you will soon view the base of Big Beehive Mountain and Mirror Lake. Mirror Lake is often referred to as "the goat's looking glass" as mountain goats till populate this area.

Climbing above Mirror Lake, the massive peaks of Mount St. Piran, Mount Aberdeen and the glacial peaks of Mount Temple will all come into view. Mount Temple is the third highest peak in Banff National Park, at 11,500 feet high.
Plain of 6 Glaciers

Departure Time: 1:00 pm
$230.00 per person - approximately 4 hour ride
The mountain trail ride to the Plain of Six Glaciers is a continuation of the trail that takes you to the end of Lake Louise. We travel to the base of Victoria Glacier where you can view numerous breathtaking glacial fields as well as Mount Victoria.

The trail travels beneath spectacular rock faces, and through sub-alpine forest, and across large avalanche paths along the slopes of Mount Whyte. We next travel to a viewpoint where the 'Plain' can be observed. This is a long glacier at the base of the lower Victoria Glacier.

From horseback you will view six other glaciers: Lower Victoria, Upper Victoria, Aberdeen, Lefroy, Upper Lefroy, and Popes. The splendor that is Lake Louise was created by the flow of these glaciers millions of years ago.

Traveling the last leg of your trip your guide will take you to the Plain of Six Glaciers Teahouse, built in 1924, at 7000 feet as a base for Swiss Guide mountaineers. This trail gives you grand views of Lake Louise and the lower valley floor as you descend in elevation.
Full Day Expedition

Features: Paradise Valley, Giant Steps, Lake Annette & The Horseshoe, and Glacier
Departure Times: 9:00 AM (full day ride)

$350.00 per person - approximately 7-hour ride

The all-day ride to Paradise departs Brewster Lake Louise Stables at 9:00 am and travels along the east side of Mount Fairview.

You ride through alpine forest and gradually climb through a tree line forest of Larch. Larch trees grow only at tree line and normally only about 7000 feet. The needles on these trees turn a golden yellow in the fall or late summer. As we approach Temple Mountain we turn on to the trail to Lake Annette where we have our lunch stop. We continue on the High Line Trail going by the Giant Steps Waterfall.

Once your guide takes you up above tree line you will have a spectacular view of the massive Wenkchemna Peaks, or the "Valley of Ten Peaks". Wenkchemna is a Stoney First Nation word that means 'ten'. The high alpine meadows you traverse are filled with mountain wild flowers as well as a small group of little lakes called Minnestimma Lakes, another Stoney word that refers to "sleeping waters".

This is an amazing high alpine ride, and a special place in the Canadian Rockies.

Please note: this is the longest day ride at our Lake Louise stables. It is suitable for intermediate to experienced riders only. A nutritious lunch is included.
Highline Full Day Ride
Departure Times: 9:00 AM Departure (Day Ride)
$300.00 per person - approximately 6-hour ride
Travel to both Lake Agnes and Plain of Six Glacier Tea House along the High Line Trail: A ride that allows you to visit both mountain teahouses and travel the famous High Line trail. On this ride you get the experience of both teahouse rides in one day. Much of the higher elevation portion of the Highline Trail is on excellent trail through lush, green and aromatic forest.

Call 403-762-5454 to book.
Please Note:
Brewster Lake Louise Stables is located at 111 Lake Louise Drive, Lake Louise, Alberta
Schedule varies daily and is subject to change. (applicable to all rides)
Rates do not include GST.
Hourly trips are available at $75.00 per person – please inquire about the schedule. Based on availability; all times are approximate
Riding helmets are offered to all persons 17 years and under.
All guests departing on horseback riding rips must sign an indemnity waiver before trip departure. The waivers must be witnessed by a Brewster Mountain Pack Trains employee and require your full mailing address and signature. If our guests are under the age of 18 a parent or guardian will also be required to sign along with the rider that is under age.
Please note that all riders must be a minimum of 52" tall and 8 years of age. Weight limit of 250lbs.
All Rides leave from our stables in Lake Louise. We are located just a few minutes walk from the public parking lots and the Fairmont Chateau Lake Louise.
Make sure to check out Brewster Adventures' winter sleigh rides as well.
GET INFO ABOUT RENOVATIONS PROGRESS >>